Digital Marketing – Performance Manager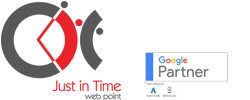 Are you ready to accept the challenge? Do you want to become a member of a super communication & highly performance-oriented digital team? Are you passionate about this job, and do you want to develop your skills in advertising and Digital Marketing?
Then this position is for you!
Who we are:
Just in Time – Digital Agency was founded in 2007 based in Athens and is one of the first companies active in Digital in Greece.
We are a leading and constantly growing company in Web Development and Digital Marketing with a wide range of customers in various industries, in Greece & abroad.
Our main goal is to constantly adapt to new technologies, develop innovative strategies and implement best practices that guarantee the success of our customers' business.
In 2014 Just in Time was one of the first companies in Greece to be certified by Google and still operates as its official Premier partner until today. From 2016 we are also active Facebook Partners.
The primary responsibilities of the candidate are:
Design and execution of digital marketing strategies for client projects
Marketing analysis – statistical data and definition of KPI's for each project
Setting up, monitoring, and optimizing digital marketing campaigns for different platforms (Facebook – Instagram Ads, Google Ads, YouTube Ads, LinkedIn Ads)
Creation, presentation, and analysis of monthly reports for client projects
Continuous research on new technologies and transfer of know-how between the digital marketing team
Coordination of relevant digital marketing tasks between internal teams (designers, developers)
What qualifications are needed (required):
2 years of proven previous service in the field, ideally in an agency
BSc or MSc degree in Marketing or relevant previous service or Professional Diploma of a recognized institution (not seminars)
Personal experience in designing, implementing, and optimizing advertising campaigns on Google Ads, Facebook Ads, Linkedin Ads, Twitter Ads, etc. (required)
Experience in managing Social Media Business accounts (required)
Excellent communication skills
Excellent written and oral communication in Greek and English
Excellent knowledge of Word, Excel, and PowerPoint programs
Basic knowledge of CMS platforms (WordPress, WooCommerce, Joomla, Magento, etc.)
Passion, mood, and creative thinking
It will be appreciated:
Certifications from Google Skillshop (Search, Display, Video, Shopping, Analytics) and/or Facebook Blueprint
Knowledge of image and/or video editing programs
Experience in project management platforms (e.g., Asana, Instagantt)
Familiarity with online Email Marketing platforms (e.g., Mailchimp)
What we provide:
Excellent working environment within a team with high know-how, creativity, and dynamics
Continuous training and access to exclusive available know-how and certification resources
Opportunities to participate in conferences and specialized training
Group activities outside the company – Team Building
Competitive salary (depending on qualifications) and flexible working hours
Forward your CV by filling in the necessary information in the form below.
Join our Team